A01
Step Two: Individual Response
With these thoughts in mind, summarize the results of your learning styles inventory (1 page):
What are your dominant, sub-dominant, tertiary, and inferior learning styles?
Were the results of the inventory what you would expect of yourself? Explain.
Save the assignment as A01+your first initial+last name. For example, Sally Ride's assignment would read "A01SRide". Submit this assignment via the Drop Box located within the Student Tools area. Use the "Send File" button and use this same label (e.g., A01SRide) in the "Title" field.
------------------------------------------------------------------------------------------------------------------------------------------------
Narrative:
As I predicted in the discussion exercise D01, the order of association resultnig from Appendix B, was NT, NF, (both very comfortable), ST low comfort, and SF very low comfort.
Thinking vs Feeling
I do not make much of a distinction along the "Thinking" and "Feeling" axis. This may be because I would not know how to distinguish between the two if I were asked. Often solutions to computing problems and other matters come to me while I dream, or if I'm looking at scenery, or reading about something else. Boom, the answer is there. I can grapple with an issue (like the labeling of this table) logically for hours or days and I may or may not come to an answer. But if I can go hiking then take a nap and then often answer is there. Either I realize in a dream per se or I know when I wake up. Naps, however, with out thinking about it first do not help. In the dreams logical thought, symbolic manipulations, and emotions are all so integrated that it is impossible to distinguish among them. To the extent there is a difference, "Thinking" trumps "Feeling," perhaps because I find "Thinking" a slightly more reliable tool to discern the illusionary nature of existence slightly more readily than "Feeling."
Sensing vs Intuition
In gross contrast to the "Thinking and Feeling" axis, I make a large distinction between "Sensing" and "Intuition, with much greater importance placed on "Intuition" than "Sensing." The mean value in my profile "Sensing" is 26, where the mean value for "Intuition" is 87.
A Theravada Explanitory Construct
My profile groups "Thinking, Feeling, and Intuition" (TFI) on the one hand and "Sensing" on the other. In my particular case, this binary clusering of styles could likely have arisen from the Theravada Buddhism that was practiced in rural Cambodia prior to the ascent of the Khmer Rouge and the Establishment of Democratic Kampuchea. As a child I was taught that from sensory perceptions arise illusion and desire, and that the meditative development of the mind is the path to see through the illusion and and the means to conquer desire. As I was assigned into a forced labor unit as a teenager I found in the memories of my youth reservoirs of strenght in my mind. So as I experienced hard labor, starvation, malaria, the death of close family members, (and all the other typical experiences that have been chronecled 'ad nausium' in the literature on Democratic Kampuchea) I remembered and resisted the endless hours of political brainwashing at motivational "Meetings." I was not the skeletal, lice ridden, diseased being I saw reflected in the water. Nor did Angkha, the 'state' constitute reality, dispite everything I saw, felt, heard, smelled, and tasted. It was all an illustion. Angkha could grind this body to dust and fertilize their ricefields with it but the body was only a temporary association of chemicals. Ultimately it was all an illusion devoid of reality. There was no I and there was no way Angkha could harm or hurt that which is not. When one sees one's very survival as having rested on the abilty of a focused meditative mind to penetrate the threatening clouds of sensory illusion then it is unlikely that one would place great importance on the sensing styles of learning.
Triangulating Data.
These results were similar to those I received when I did the on-line learningstyles test on the NCS site (see my student web page in the Walden student roster)
VISUAL PRESENTATION CHART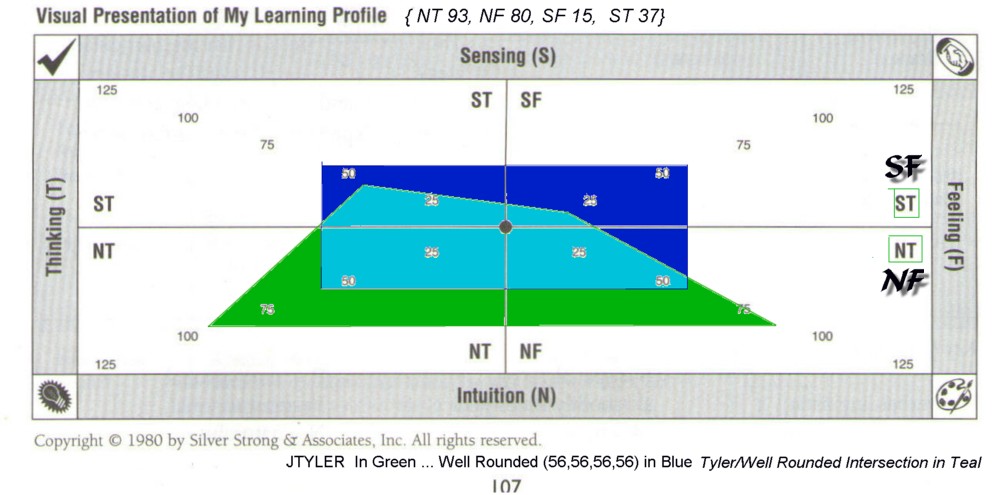 SUMMARY TABLE
SUMMARY

Sums

NT

Dominant

93

Strong Choice Comfortable in the style

NT

NF

Auxiliary

80

Strong Choice Comfortable in the style

NF

ST

Tertiary

37

Low comfort in style

ST

SF

Inferior

15

Very low comfort in the style

SF
DATA
Jtyler Style Analysis

Page 105

TERMS

ASSOCIATED STYLE

1

2

3

4

1

2

3

4

1

Creative

Personal

Organized

Analytical

NF

SF

ST

NT

2

Facts

Formulas

Passions

People

ST

NT

NF

SF

3

Spontaneous

Flexible

Literal

Interpretive

SF

NF

ST

NT

4

Harmonize

Question

Utilize

Imagine

SF

NT

ST

NF

5

Create

Compete

Cooperate

Critique

NF

ST

SF

NT

6

Remember

Reason

Relate Personally

Recognize

ST

NT

SF

NF

7

Discovery

Debate

Directions

Discussion

NF

NT

ST

SF

8

Patterns

Human Interactions

Details

Possibilities

NT

SF

ST

NF

9

Feelings

Objects

Ideas

Insights

SF

ST

NT

NF

10

Action

Wonder

Warmth

Wisdom

ST

NF

SF

NT

11

Eureka!

Trial & Error

Gut Feeling

Strategy

NF

ST

SF

NT

12

Realistic

Theoretical

Aesthetic

Humanistic

ST

NT

NF

SF

13

Specifics

Concepts

Values

Rapport

ST

NT

NF

SF

14

Logic

Precision

Persuasion

Predictions

NT

ST

SF

NF

15

Knowing

Relating

Expressing

Understanding

ST

SF

NF

NT

16

Idealize

Systematize

Socialize

Routinize

NF

NT

ST

SF

17

Intellectual

Compassion

Pragmatic

Idealistic

NT

SF

ST

NF

18

Inventory

Intimacy

Information

Inquiry

NF

SF

ST

NT

19

Loyalties

Rules

Principles

Metaphors

SF

ST

NT

NF

20

Inspirational

Logical

Experiential

Methodical

NF

NT

ST

SF

21

Argument

Accuracy

Affiliation

Alternatives

NT

ST

SF

NF

22

Clarity

Curiosity

Empathy

Originality

ST

NT

SF

NF

23

Explanation

Extrapolation

Emulation

Example

NT

NF

SF

ST

24

Enthusiasm

Experience

Effort

Examination

NF

SF

ST

NT

25

Symmetrical

Sequential

Scientific

Social

NF

ST

NT

NF

JTYLER ASSIGNED VALUES

ASSOCIATED STYLE

1

2

3

4

1

2

3

4

1

5

0

1

3

NF

SF

ST

NT

2

5

3

1

0

ST

NT

NF

SF

3

1

5

0

3

SF

NF

ST

NT

4

0

5

1

3

SF

NT

ST

NF

5

5

1

0

3

NF

ST

SF

NT

6

1

5

0

3

ST

NT

SF

NF

7

5

3

0

1

NF

NT

ST

SF

8

5

1

0

3

NT

SF

ST

NF

9

0

1

3

5

SF

ST

NT

NF

10

1

3

0

5

ST

NF

SF

NT

11

5

1

0

3

NF

ST

SF

NT

12

0

5

3

1

ST

NT

NF

SF

13

1

5

3

0

ST

NT

NF

SF

14

3

1

0

5

NT

ST

SF

NF

15

3

1

0

5

ST

SF

NF

NT

16

5

3

0

1

NF

NT

ST

SF

17

5

0

1

3

NT

SF

ST

NF

18

3

0

1

5

NF

SF

ST

NT

19

3

1

5

0

SF

ST

NT

NF

20

1

3

5

0

NF

NT

ST

SF

21

3

5

0

1

NT

ST

SF

NF

22

3

1

0

5

ST

NT

SF

NF

23

3

5

1

0

NT

NF

SF

ST

24

0

5

3

1

NF

SF

ST

NT

25

3

1

5

0

NF

ST

NT

NF
| | | | | |
| --- | --- | --- | --- | --- |
| Col | ID# | Term | Value | Group |
| 3 | 62 | Aesthetic | 3 | NF |
| 4 | 96 | Alternatives | 1 | NF |
| 1 | 5 | Create | 5 | NF |
| 1 | 1 | Creative | 5 | NF |
| 1 | 7 | Discovery | 5 | NF |
| 1 | 24 | Enthusiasm | 0 | NF |
| 1 | 11 | Eureka! | 5 | NF |
| 3 | 65 | Expressing | 0 | NF |
| 2 | 48 | Extrapolation | 5 | NF |
| 2 | 28 | Flexible | 5 | NF |
| 4 | 92 | Idealistic | 3 | NF |
| 1 | 16 | Idealize | 5 | NF |
| 4 | 79 | Imagine | 3 | NF |
| 4 | 84 | Insights | 5 | NF |
| 1 | 20 | Inspirational | 1 | NF |
| 1 | 18 | Inventory | 3 | NF |
| 4 | 94 | Metaphors | 0 | NF |
| 4 | 97 | Originality | 5 | NF |
| 3 | 52 | Passions | 1 | NF |
| 4 | 83 | Possibilities | 3 | NF |
| 4 | 89 | Predictions | 5 | NF |
| 4 | 81 | Recognize | 3 | NF |
| 4 | 100 | Social | 0 | NF |
| 1 | 25 | Symmetrical | 3 | NF |
| 3 | 63 | Values | 3 | NF |
| 2 | 35 | Wonder | 3 | NF |
| | Sum::: | | 80 | |
| | | | | |
| Col | ID# | Term | Value | Group |
| 4 | 76 | Analytical | 3 | NT |
| 1 | 21 | Argument | 3 | NT |
| 2 | 38 | Concepts | 5 | NT |
| 4 | 80 | Critique | 3 | NT |
| 2 | 47 | Curiosity | 1 | NT |
| 2 | 32 | Debate | 3 | NT |
| 4 | 99 | Examination | 1 | NT |
| 1 | 23 | Explanation | 3 | NT |
| 2 | 27 | Formulas | 3 | NT |
| 3 | 59 | Ideas | 3 | NT |
| 4 | 93 | Inquiry | 5 | NT |
| 1 | 17 | Intellectual | 5 | NT |
| 4 | 78 | Interpretive | 3 | NT |
| 1 | 14 | Logic | 3 | NT |
| 2 | 45 | Logical | 3 | NT |
| 1 | 8 | Patterns | 5 | NT |
| 3 | 69 | Principles | 5 | NT |
| 2 | 29 | Question | 5 | NT |
| 2 | 31 | Reason | 5 | NT |
| 3 | 75 | Scientific | 5 | NT |
| 4 | 86 | Strategy | 3 | NT |
| 2 | 41 | Systematize | 3 | NT |
| 2 | 37 | Theoretical | 5 | NT |
| 4 | 90 | Understanding | 5 | NT |
| 4 | 85 | Wisdom | 5 | NT |
| | SUM::: | | 93 | |
| | | | | |
| Col | ID# | Term | Value | Group |
| 3 | 71 | Affiliation | 0 | SF |
| 2 | 42 | Compassion | 0 | SF |
| 3 | 55 | Cooperate | 0 | SF |
| 4 | 82 | Discussion | 1 | SF |
| 3 | 72 | Empathy | 0 | SF |
| 3 | 73 | Emulation | 1 | SF |
| 2 | 49 | Experience | 5 | SF |
| 1 | 9 | Feelings | 0 | SF |
| 3 | 61 | Gut Feeling | 0 | SF |
| 1 | 4 | Harmonize | 0 | SF |
| 2 | 33 | Human Interactions | 1 | SF |
| 4 | 87 | Humanistic | 1 | SF |
| 2 | 43 | Intimacy | 0 | SF |
| 1 | 19 | Loyalties | 3 | SF |
| 4 | 95 | Methodical | 0 | SF |
| 4 | 77 | People | 0 | SF |
| 2 | 26 | Personal | 0 | SF |
| 3 | 64 | Persuasion | 0 | SF |
| 4 | 88 | Rapport | 0 | SF |
| 3 | 56 | Relate Personally | 0 | SF |
| 2 | 40 | Relating | 1 | SF |
| 4 | 91 | Routinize | 1 | SF |
| 1 | 3 | Spontaneous | 1 | SF |
| 3 | 60 | Warmth | 0 | SF |
| SUM::: | | | 15 | |
| | | | | |
| Col | ID# | Term | Value | Group |
| 2 | 46 | Accuracy | 5 | ST |
| 1 | 10 | Action | 1 | ST |
| 1 | 22 | Clarity | 3 | ST |
| 2 | 30 | Compete | 1 | ST |
| 3 | 58 | Details | 0 | ST |
| 3 | 57 | Directions | 0 | ST |
| 3 | 74 | Effort | 3 | ST |
| 4 | 98 | Example | 0 | ST |
| 3 | 70 | Experiential | 5 | ST |
| 1 | 2 | Facts | 5 | ST |
| 3 | 68 | Information | 1 | ST |
| 1 | 15 | Knowing | 3 | ST |
| 3 | 53 | Literal | 0 | ST |
| 2 | 34 | Objects | 1 | ST |
| 3 | 51 | Organized | 1 | ST |
| 3 | 67 | Pragmatic | 1 | ST |
| 2 | 39 | Precision | 1 | ST |
| 1 | 12 | Realistic | 0 | ST |
| 1 | 6 | Remember | 1 | ST |
| 2 | 44 | Rules | 1 | ST |
| 2 | 50 | Sequential | 1 | ST |
| 3 | 66 | Socialize | 0 | ST |
| 1 | 13 | Specifics | 1 | ST |
| 2 | 36 | Trial & Error | 1 | ST |
| 3 | 54 | Utilize | 1 | ST |
| | SUM::: | | 37 | |