You are visiting a page of the Cryes in North America Web Site

The Reunion
(From the lead article of the April 1999 Newsletter by Anita Greene)
Well, June 12, 1999 is almost here, just five or six weeks away. All plans have been made for the reunion with some help from my Blount Co. TN Cousins. The time is from 11:00 AM until 4:00 PM at the Williamson Methodist Church. Here is where most of the Blount County Cryes, or at least the earliest ones have been buried. The fellowship hall and church are providing us with kitchen facilities and seats. Not knowing how many will attend however, bring a lawn chair for comfort sake and we can sit under the trees and get acquainted. Bring something to eat, sandwiches, chicken or snacks. We will share like a family homecoming. Drinks and paper products will be provided.

It would be invaluable for me to know how many to plan for. I will try to have enough ice and such to make our time comfortable, but I will need to know how many you will be bringing with you. Please e-mail or snail me no later than 1 June, 1999 with the following information so I will be able to provide adequately:

Your Name:

Your Street Address:

Your City, State, Zip

Number of Adults you will bring

Number of Children you will bring

Total number of persons you will bring.

Directions to Reunion
Take I75 to Exit 72 (Loundon Exit). Go East on 72 for 15.5 miles. Turn Left onto 411 North. Go 15.3 miles and turn right on 129 South . Travel 7 miles to Junction 336. Turn Right (There is a Phillips 66 station here.) Travel .7 miles to the end of the road. Williamson Cemetary will be on your right. Turn Right and the Church is 2/10 (.2) of a mile on your right. Williamson Methodist Church.
There will be signs pointing the way from these directions.
If you are coming in from Maryville, side you will follow 129 to Fontana and turn left onto 129, and follow the remained of the directions.

Maps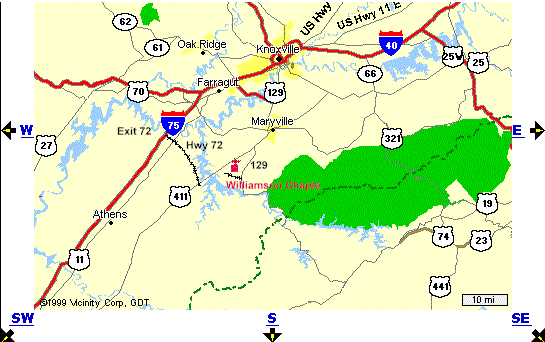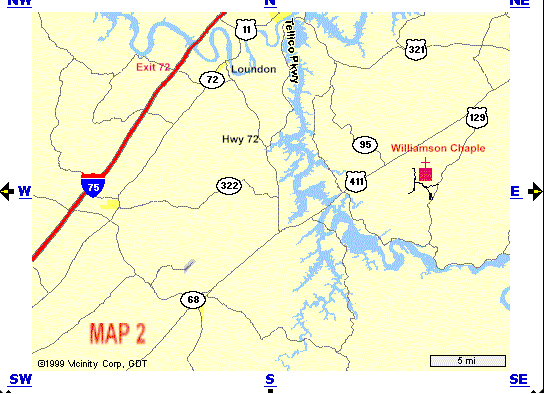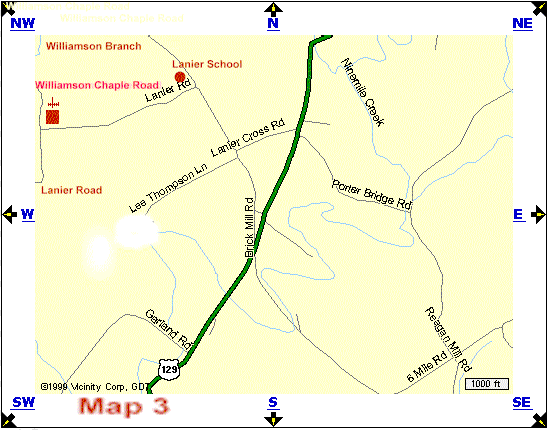 Nearby Facilities
There is a Morison's Cafeteria in the Foothills Mall which is about 10 miles from our location. Cancune, Buddy's Bar B.Q. Shoney's, Taco Bell, MacDonalds, Central Park, and Sonic within 15 minutes drive of the Church.
The Closest Motels are Mt. View Motel (423) 984-9518, Princess Motel (423) 982-2490 and 411 Motel (423) 982-5361, all listing vacancies. These are more moderately priced and more old fashioned. The newer accomodations will be found about 15 miles away on 129. Ramada Inn (423) 970-3060.
The great Smokey Mountains are within 1 hour drive featuring Dollywood, Gatlinburg, Pigeon Forge, and Sevierville. Many attractions are in each township.